It's official: According to the latest iteration of the U.S. Drought Monitor just released, the drought is over for most of eastern Harris County.
Here's the picture: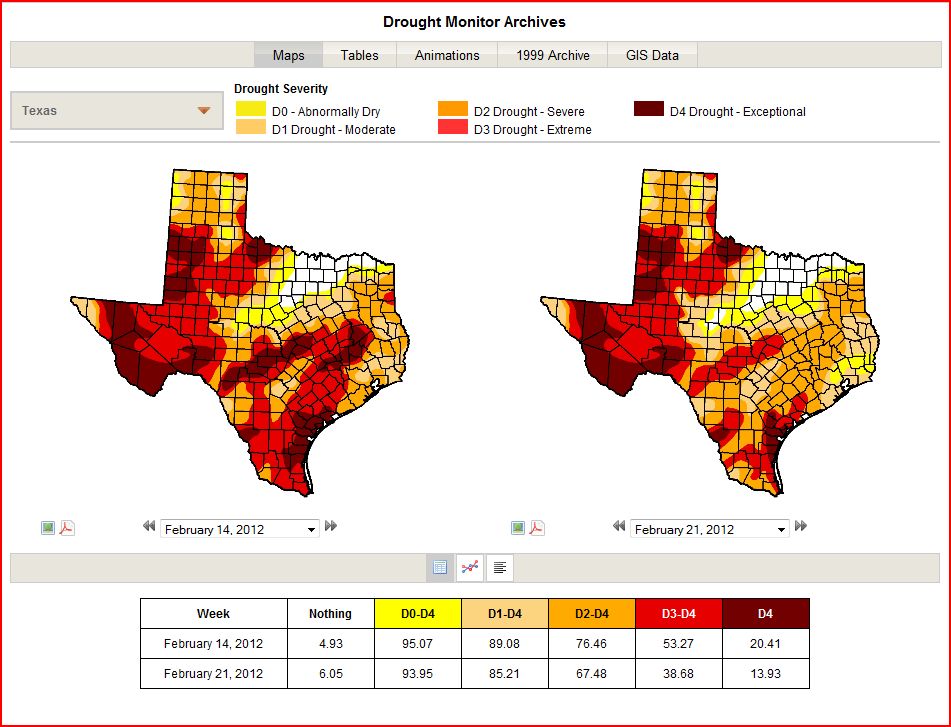 Compare that to where we were at the beginning of the year and be amazed. But don't get too cocky. Look at the chart accompanying the current picture and note that as of this time last year, 12.52% of the state – slightly more than double what is the case now – was in no drought, and none of the state was in an Exceptional drought; only 7.78% was in Extreme drought. Then it stopped raining for nearly a year, and you saw what happened. We're still in a La Nina situation, and though we have bucked the odds so far, there's no guarantee that will continue. Another dry spell and we'll all be cooked.
Another way of saying we still have a way to go to catch up is to look at lake levels, especially in Central and West Texas.
There simply hasn't been enough rain—and, more critically, not enough runoff—to recover from brutally dry and hot 2011. In the case of West Texas, there hasn't been enough rain in years to bring up key reservoirs. And the outlook for 2012, given the lingering La Nina pattern, is not great.

Midland, Odessa and San Angelo, in fact, find themselves in precisely the same position they were in last year: two of their three drinking-water lakes are dry and the third, O.H. Ivie, is declining rapidly. At current usage levels, the cities could run out of Ivie water by January 2013. New watering restrictions will buy the cities another 90 to 120 days, enough time to build a pipeline to groundwater in Ward County.
Odessa does have some other options, but they're not cheap and they may have unknown long term effects. Conservation, which includes encouraging people to use less water by pricing it appropriately, is never a bad idea.
Related Posts: